Product Details
FSE-100 Explosion-proof Flame Detector is used to collect the flame signal which is amplified and processed to determine the presence or absence of flame. FS-100 Flame Detector gives the flame quality output in real-time – the basis of determining the presence or absence of flame.
The detector is suitable for oil and coal fired applications.
Principle
FSE-100 Explosion-proof Flame Detector divides the flame signal into strength signal and frequency signal in the first place, which indicates the flame luminance and the flame flicker respectively.
The frequency signal contains spectrum, bandwidth and peak-peak value, etc. The flame frequency is 1~200Hz, while the frequency of the coke button and ash in the boil furnace is less than 2 Hz. Therefore, the presence or absence of the flame can be determined by analyzing the frequency signal.
FSE-100 detects the flame quality to determine the presence or absence of flame by amplifying, filtering and computing strength and frequency signal as well as processing the signal of flame characteristics.

Specifications
Mechanical part


Ambient conditions
Housing material
Die-casting aluminum
Ambient temperature:-20℃

—

60℃
Housing weight
4.0 kg
Humidity:0-95% relative humidity, no condensation
Installation method
Screw point
Explosion-proof Grade:Exd ⅡC T6Gb
Dimensions
Diameter 113 mm
overall length:252 mm approx.
protection level:NEMA 4X
Electrical part
Power supply
24VDC±10%, DC 0.35A, 8VA
Electrical connection
Explosion-proof joint
Analog output
4mA

—

20mA
Maximum load
750Ω
Contact output
Flame relay; NO; Fault Relay; NC
Contact Rating
2A 30VDC, 2A 220VDC
Display
Six-Character alphanumeric LED
Operator interface
four pushbutton style keys
Cable specification
12-pin(crimping terminal)
-special cable;
high-temperature resistance, flame-retardant shielded flexible
-Max O.D.:9mm
Cooling air
Volume
Straight conduit installation method:5 SCFM
Excessive contaminants might require a flow up to 15 SCFM
Optical fiber installation method:15 SCFM
Tangential-fired boiler:15 SCFM
Pressure
6kPa
Air source
Clean,Dry,Cooling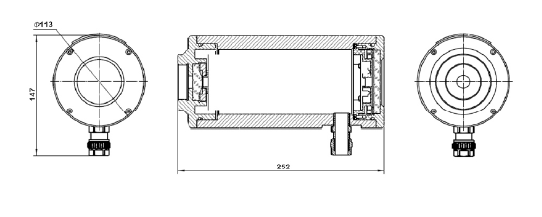 Installation
Flame Detector Angle
The observation angle and the burner centerline should be set at a small angle
(recommended 5- 10 degree), ensuring maximum monitoring of a flame's initial combustion zone, and obtaining the best observation effect.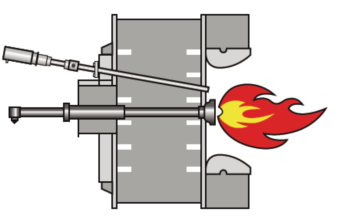 Straight conduit installation method
It is a direct-view way to observe the target flame which is viewed through a straight conduit. This method is best suited for water-wall boilers and W-shape burners.
Optical fiber installation method
The target flame can be detected via the optical fiber transmission system with an adjustable observing angle. It's easy to install without installation space limitation. The observing method is applicable for all types of burners in coal-fired power plants.
Features
• Self-checking
• Self-learning
• Alarm signal output available
• Integral and compact design – easy to locate and install
• Equipped with PTFE insulation material - improve the heat resistance and the durability of equipment
• Integrated with high performance photosensor
• Remote online tuning and parameters setting
• Able to store 8 sets of files - appliable to different load, different fuel and different combustion technology
• Use explosion-proof technology - suitable for special conditions
Industrial applications
• Power plant
• Petrochemical industry
• Metallurgical industry
• Cement industry