Walsn Enterprises Ltd., with global headquarters in Richmond, BC, has signed a representative agreement with Aroma Engineering which will be Walsn's representative for the industrial market in India, including Oil & Gas, Chemical, Petrochemical, Power, and Fertilizer plants, etc.

Aroma engineering was founded in 1998, engaging in providing business development services in Oil & Gas, Power, Fertilizer, Steel, Water and the Food and Dairy industries in India to various leading Indian and Foreign manufacturers of engineered products, including Walsn.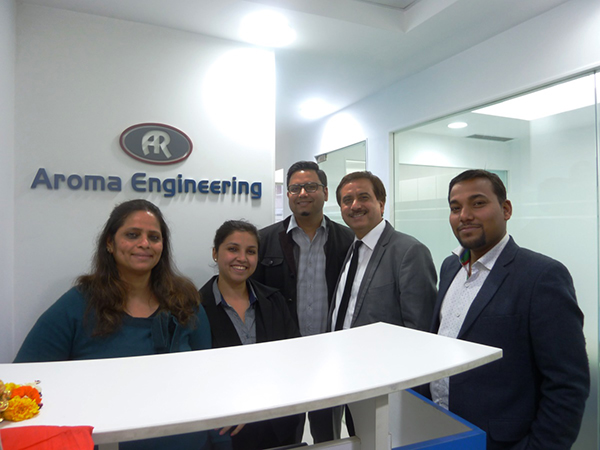 (Left to right)
Mrs. Mamta Bhatia, Controller
Ms. Priyanka Gupta – Assistant Manager, Marketing
Mr. Rajat Mahajan – Senior Manager, International Business
Mr. Rajesh Mahajan – Director
Mr. Girijesh Jha – Senior Manager Domestic BusinessMr. Rajesh Mahajan, company founder, is a Mechanical Engineer with an MBA degree. He has worked in several large Indian companies and spent the 16 years previous to forming Aroma as a Marketing Manager for a leading pump manufacturer for all of India.
Walsn has earned an excellent reputation in the industry for providing high product quality, superior expertise and technical ability, outstanding customer service and solutions at an economical cost. The company has R&D, manufacturing and production facilities in Langfang, Hebie, China and Richmond, British Columbia, Canada. Walsn is a financially strong, privately-held company, producing the following products for its diverse customer base:
• Coriolis Mass flowmeters;
• Electromagnetic flowmeters;
• Mill & Silo monitors;
• Oxygen Analysers;
• Flame Detection Systems